Agile & Soft Skills Meetup
Andersen Tech Talks
About the event
We invite you to take part in an international online Agile meetup! There, you will enhance your competencies, get acquainted with talented people, and learn more about the adaptation of new team members and the roles of HR specialists and leaders in modern Agile organizations. Our speakers from Germany and Poland will help you with this. You're probably thinking now: "Why should I fill out some form, then keep this meetup in mind, and even remember about the stream?" Of course, you need to do all this for the sake of expert speeches that will immerse you in the depths of Agile and then pull you to the surface better and stronger! :)
The event will be interesting for:
Developers of any level;
Project Managers and Team Leads;
Anyone who wants to enhance their skills.
Partners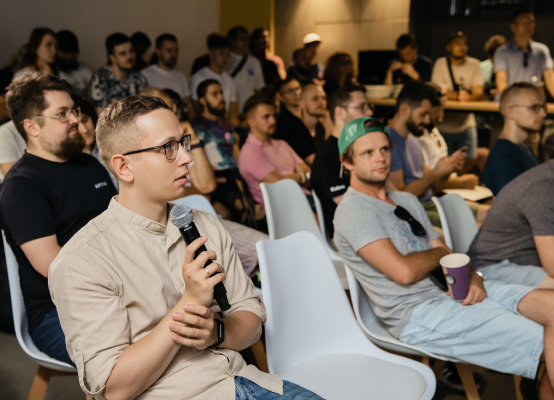 Topics and speakers
Bar Schwartz
Published Author, ICAgile Instructor, and SAFe Program Consultant
17:00 UTC
Agile Leadership
About the topic
Leaders are faced with great responsibilities when it comes to business success and people's well-being at work. They set up the standards for how we work and the priorities for what we work on as they translate strategy to day-to-day action. In today's aspired-to-be Agile and Lean working environments, leadership is at the core to enable agility in organizations. In this talk, we'll discuss what has changed for leaders nowadays how can they develop the capabilities to thrive in their role and bring their people along.
About the speaker
Bar is an organizational excellence and Agile leadership consultant, certified ICF professional coach, and ICAgile instructor with over 10 years of track record in IT. She is the author of Leadership in a Time of Continuous Technological Change book.
Vitali Birchanka
Lead Business Analyst. Andersen
18:20 UTC
Improvise, Adapt, and Overcome
About the topic
It's always a challenge to start on a new project. But what is more difficult is to join a project with established processes that significantly differ from the "usual" flow. However, that's the idea of Agile – we need to be flexible enough to find the best way to blend with the team. So today, we'll discuss the onboarding and adaptation of the new team members in ongoing Agile projects.
About the speaker
Vitali is a Lead Business Analyst in the Healthcare industry, a subject-matter expert on healthcare projects, and a Healthcare IT Foundations course participant (Carnegie Mellon University, the USA). He also has experience in FinTech and Logistics.
Unfortunately, registration for this event is already closed. However, Andersen often organizes interesting events! Find out more information in the dedicated community!
Take a look at how we work, live, and have fun!