Sales Meetup
The Inception Question Framework for international business leadership.
About the event
Andersen Sales Meetup is a unique opportunity to learn about the power of language in international business and its use to enhance leadership skills. Our expert speakers, Michał Rutkowski and Peter Kaufman, will share practical tips and techniques for effective communication, questioning, and persuasion. Are you in Warsaw? Do you want to become our guest and attend this meetup personally – alone or with a friend? Offline registration is available here!
The event will be interesting for: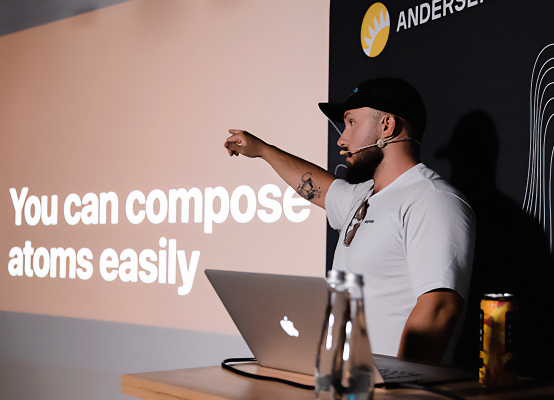 Topics and speakers
Michał Rutkowski
Founder of Linguistics of Leadership
17:00 UTC
The Power of Magnetic Questions: Paraphrasing, Framing, and Setting Up Conversations.
About the topic
Michał will explore the relationship between language and thought and explain why asking the right questions is essential for influencing others. He will introduce three powerful tools for asking magnetic questions: paraphrasing, framing, and setting up the conversation. Michał will also discuss the linguistic background and frameworks for each tool, demonstrating how they can be applied in a business context to manage and persuade more effectively.
About the speaker
Michał Rutkowski is a Polish polyglot and linguist, a language consultant specializing in business language teaching and support for companies entering foreign markets. In 2022, he started Linguistics of Leadership that trains teams and individuals in improving communication and loving language. Michał has published two scientific papers and a book on language learning and is currently pursuing his Ph.D. in psycholinguistics. He's fluent in Polish, English, Spanish, German, and Russian, as well as has limited working proficiency in Portuguese and French.
Peter Kaufman
Communication Coach at Get Fluent Fast
17:30 UTC
Using Your Voice to Incept Ideas: How to Turn Your Questions into Hypnotic Tools.
About the topic
Peter will share his insights on how non-native business leaders can use their voices to persuade even native-speaking executives of the highest level. He will provide practical tips and techniques for leveraging the full power of your voice, including how to use your accent to your advantage. Peter will also demonstrate how to turn your questions into a Hypnotic "Inception" of your ideas using the Inception Question Framework.
About the speaker
Peter is a long-time acting coach who has spent 10 years building communities and training business leaders in elite communication skills across the CEE region, including Ukraine, Poland, and Hungary. In 2019, he developed his Power Talk Method and has since coached sales teams, venture capitalists, and founders from all over the CEE region on how to communicate effectively with US/UK C-suite executives, close premium deals faster, raise funding rounds, and interview with confidence.
Unfortunately, registration for this event is already closed. However, Andersen often organizes interesting events! Find out more information in the dedicated community!
Take a look at how we work, live, and have fun!